TU Pre-College Program kicks off new school year with 'College Knowledge'
Post Published On:
Thomas University's Pre-College Program helps area youth stay in school, graduate high school, and enter and graduate college. Two federally funded programs, through the Department of Education, fall under the Pre-College program umbrella: Educational Talent Search (ETS) and GEAR UP.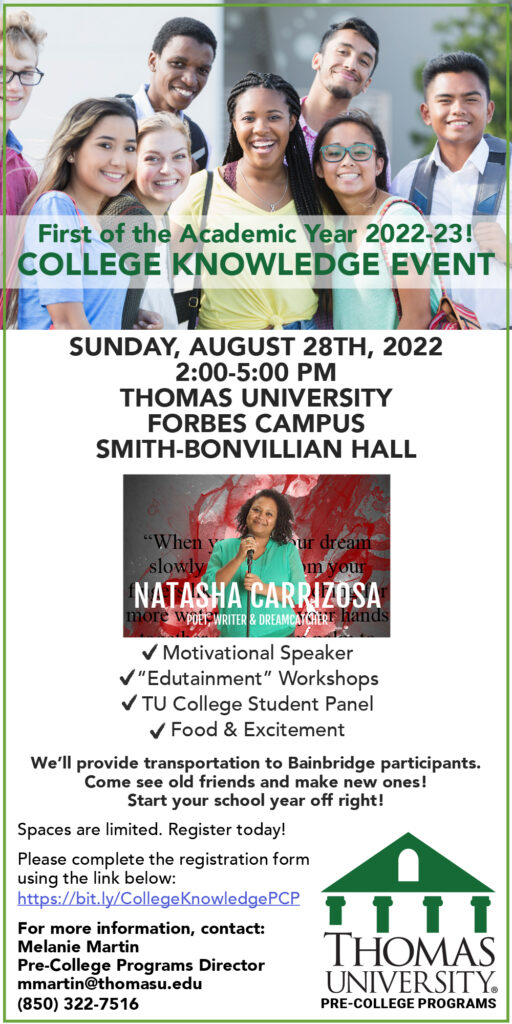 At 2 p.m. Sunday, Aug. 28, the program kicks off a new school year with "College Knowledge," an activity offered four times a year. This event will be held in Smith-Bonvillian Hall on Thomas University's Forbes Campus. Students will enjoy a motivational talk by "poet, writer and dream catcher" Natty Carrizosa. She is the daughter of an African-American mother and Mexican immigrant father. Her book, "Crown," is about being your authentic self, overcoming adversity, mindfulness and self-care, spirituality, motherhood, teenage life, gratitude, hopes and dreams, and growing up different (roots) from bullying to self-actualization (crown).
Coach Zachary Exume, Thomas University's Head Women's Basketball Coach, and some of the team members will share with the audience the importance of obtaining a college education and what they did to enter into and be a success at TU. There will be drawings for four $50 gift cards, giveaways, and dinner. To attend, participants must complete an online application. Middle school students who attend school in the Decatur County, Thomas County, or Thomasville City School System will find an application here: https://botform.compansol.com/202164234450040.
High School students in these school systems will find theirs by following this link:
https://botform.compansol.com/202165383571858,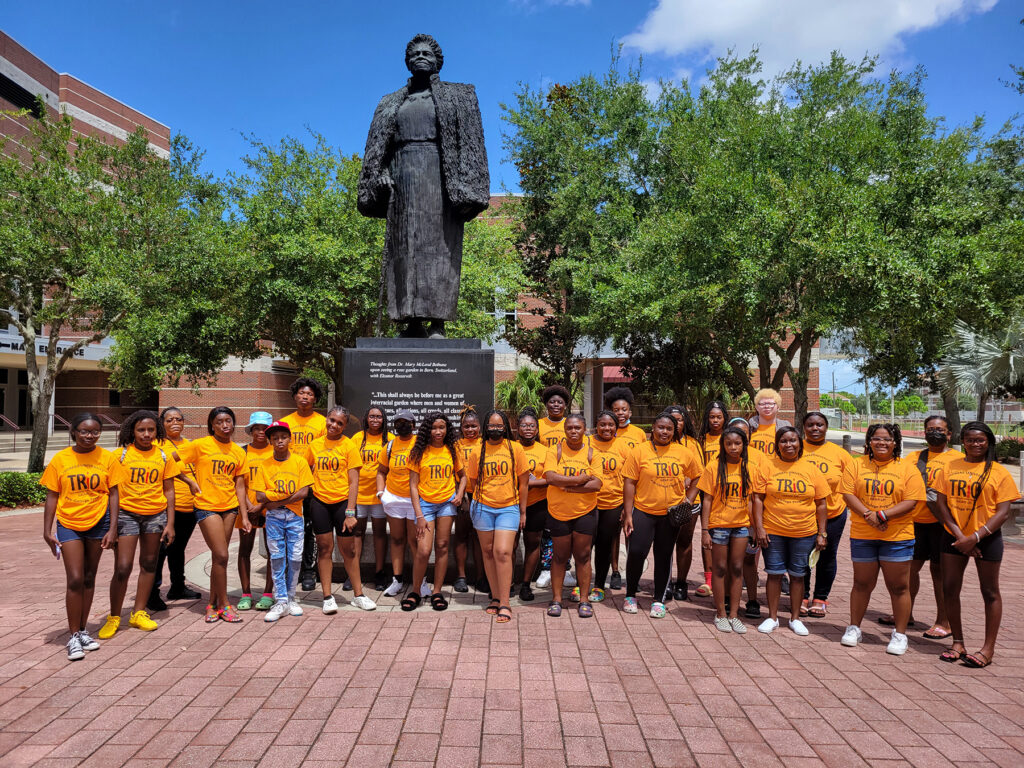 Currently, TU's ETS serves 600 students in Bainbridge, Thomasville, and Thomas County, most of whom are first-generation college students. GEAR UP serves students in the same school systems, who are 10th, 11th and 12th grade students along with a cohort of first-year college students. The program provides these students with various services to help them accomplish their goal of postsecondary education.
TU's Pre-College Program helps participants with ACT and SAT prep and waivers, tutoring, scholarship searches, and assistance completing the FAFSA or financial aid forms. Pre-College program staff conduct college and career exploration activities, including career assessments, college application completions, college tours and summer programs. This year students completed college and cultural enrichment tours to Santa Fe College and Bethune Cookman University.
For more information, please contact Melanie Martin, Director, at 229-227-6929 or mmartin@thomasu.edu.