Former West Point quarterback, Army veteran Chris Carter signs on with Thomas University's new football team
Post Published On:
Chris Carter is no stranger to playing football. The Imperial, California, native played on his high school football team before moving over to West Point to play on the prep school football team for a year and then play two years at the academy. On each team, Carter was an outstanding quarterback.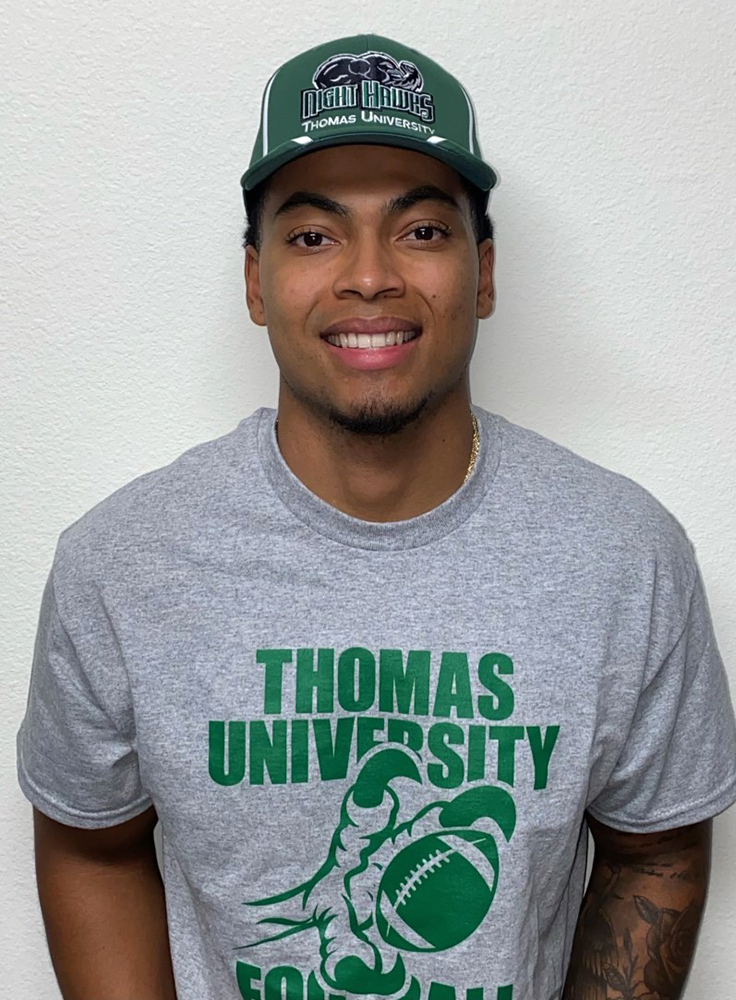 "What Chris brings to TU and the football program is his experience in the military and also playing major college football," said Orlando Mitjans, Head Coach of the Thomas University Military Transition Football Team. "He will be a great asset to our young men coming out of high school and also some of our transitional military men starting football for the first time. Most importantly, Chris will be a great example of how to be a student athlete."
When he left West Point before graduating, Carter enlisted in the Army for two years. He began his military career in Oklahoma and then moved to South Korea. In both locations, Carter was part of the Air Defense as an enhanced early warning systems operator.
"The experience opened my eyes to seeing the world," Carter said. "I definitely want to travel a lot more after being there."
When Carter finished his enlistment in July 2021, he wasn't sure what was next for him. He considered continuing his college studies, but he also remembered how much he enjoyed playing football. Then Carter heard from a friend that Orlando Mitjans, who was one of the football coaches during Carter's time at West Point, was starting a military transition football program at Thomas University.
"I figured that I would give him a call," Carter said. "He told me about the program, and he convinced me to sign up. We're both pretty excited about coming back together again. I'm excited to start this journey at TU."
Mitjans did not directly coach Carter while he was at West Point, but the quarterback did make an impression on Mitjans.
"The times the offense went against the defense, he was a competitor," Mitjans said. "Chris loved to compete and enjoyed winning. He was a leader on the field. He was very quiet. He just did what he had to do to be successful and just went about his business."
Mitjans was delighted to hear that Carter wanted to be part of the nation's first military transition football program.
"As we all know, the Army-Navy game is the biggest game of the year around the country and around the world," Mitjans said. "To have your quarterback lead you to a victory, that is big in a lot of ways. It is a great feeling for men and women all over the world when Army beats Navy. Chris' athletic talents put him in position to win a lot of games when he was at West Point. We are so blessed to have him here at TU to bring some of that excitement and winning attitude to the Night Hawks."
As an undergraduate at Thomas University, Carter plans to study Business Administration.
"I'm excited because this is a great opportunity for a second chance for me to get my education and also play football again," Carter said. "I've always loved football. I just love the team sport and what it take to get on the field. I think I've still got some years in the tank. I figure why not try again? I'm blessed to have this opportunity to play football and, more importantly, continue my education."
Carter's mother and two sisters support his decision to go back to school.
"They're really excited for me," he said. "I've always had a lot of support from them throughout my life, and I'm grateful to have them in my corner. They're happy that I'm pursuing my education again, and they're definitely excited for me to be on the field again."
Carter anticipates that his family will attend some of the Night Hawks games, especially when they begin their first season in the fall of 2023.
"One of my sisters actually lives out in Georgia," he said. "She's definitely going to come out to some games."