TU student interns with Tall Timbers, develops management plan for Lost Creek Forest
Post Published On:
Aubree Plymale, a Natural Resource Conservation Management major at Thomas University, wrapped up her summer semester classes with Professor Elizabeth Harrell and TU's Geospatial Analysis Planning and Preservation Center on Friday, Aug. 6, with two presentations.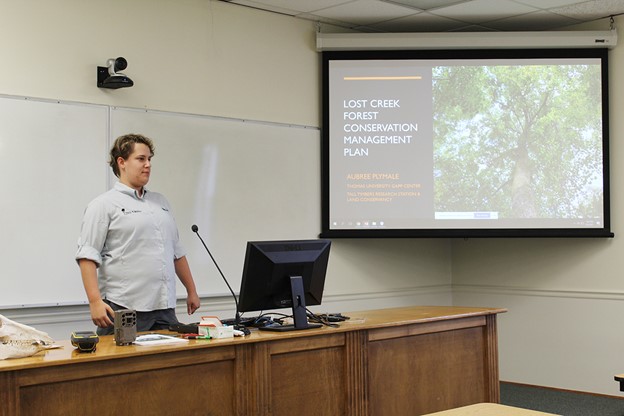 Plymale first presented a conservation management plan for Lost Creek Forest that focused on opening the tree canopy, maintaining recreational trails, removing invasive species, completing priority species surveys, and completing feral hog population and damage surveys. Plymale also presented about her internship with Tall Timbers Research Station and Land Conservancy while also working as a conservation technician. In that role, Plymale worked with biological surveys, monitoring wildlife species, conducting GIS work and editing maps, conducting annual conservation easement monitoring visits, managing records, writing reports, conducting policy analysis, and community outreach.