TU grad student wins scholarship from Sigma Beta Delta national honor society
Post Published On:
The Executive Council of Sigma Beta Delta International Honor Society for Business, Management and Administration recently named Tiffoney Smith as the recipient of its 2021 Scott Scholarship. The Council selected Smith from thousands of society members throughout the country.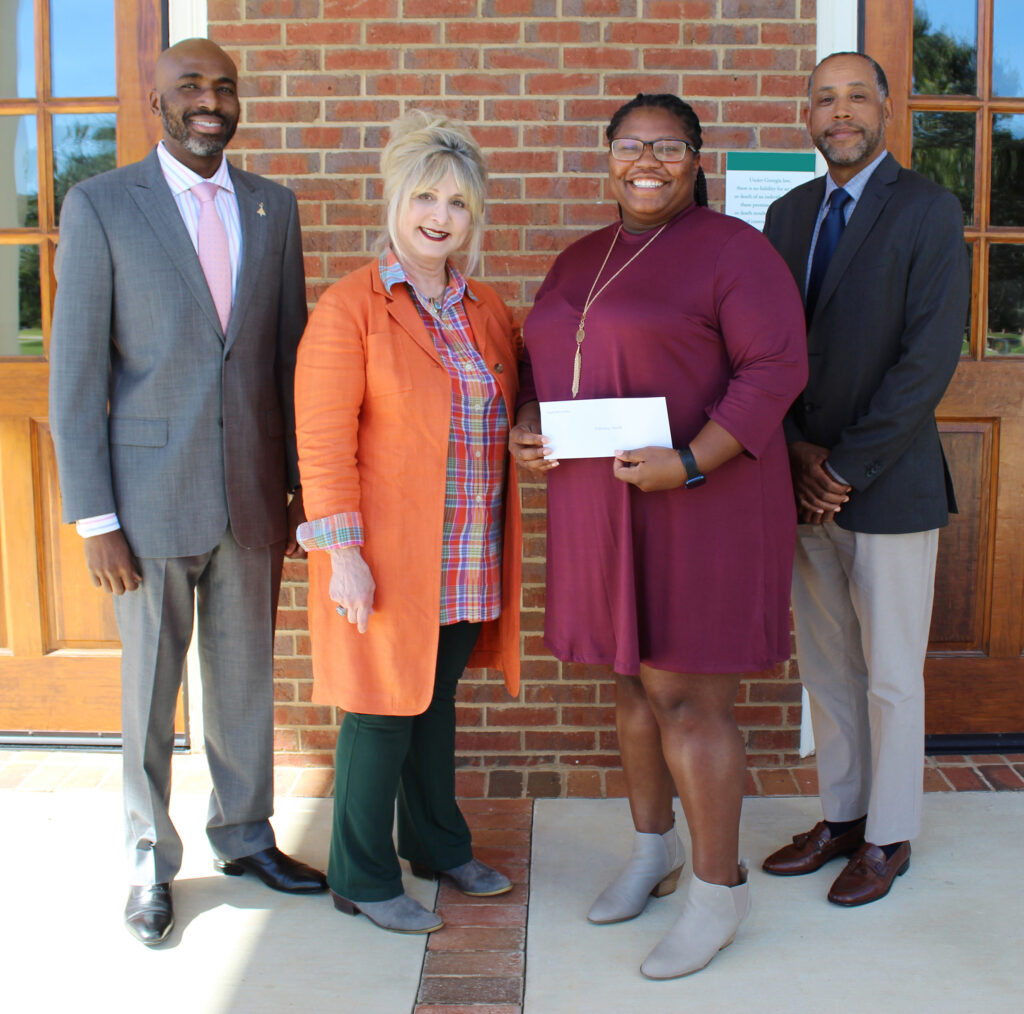 Smith graduated Magna Cum Laude from Thomas University in May with a Bachelor of Science Degree in Management. She also received the award for Outstanding Undergraduate Student in the Division of Business.
Smith said she was grateful just to be recommended for the scholarship. She was also surprised when she received the division award during commencement.
"I'm a keep-my-head-down-and-do-my-work kind of person," Smith said. "It's just good to get the acknowledgement that other people see how hard I work."
Smith, who lives in Thomasville with her husband Recardo and their four children, took an indirect route to earning a college degree. The Sumter, South Carolina, native began by joining the Navy right after graduating from high school in 2010 at the age of 17. Originally she was going to enlist in a different branch of the military, but her mom, a Navy veteran, convinced her that the Navy was the right choice.
For seven years Smith served in the Navy as an Aviation Ordnanceman, which required handling ammunition and missiles, loading and unloading them into aircraft. The work required a great deal of technical training in how to properly do the work. While in the Navy, Smith met and married her husband Recardo.
When she and her husband ended their military service, they decided to settle in Thomasville, her husband's hometown.
Smith realized that she wanted to earn a college degree, but she wanted a traditional college experience.
"We were in Thomasville, and I wanted to come and sit in the classroom," she said. "At least when I first started, I felt like because I had been out of school for so long, I needed to be able to get back in the right mindset. Because Thomas University is small, I got to know most of my instructors and peers. I feel like I picked up more here."
In her educational journey, Smith said the biggest challenge she's faced has been balancing her studies and her family.
"I don't like turning in mediocre anything," Smith said. "I don't like disappointing my professors, but I also don't want to disappoint my kids. Just kind of getting the balance of being able to give full effort to everything."
Now Smith is working on a master's degree in Human Resources Management. She's a member of the TU chapter of Sigma Beta Delta and TU's new chapter of the Society for Human Resource Management (SHRM). Now she's working in the Admissions Office with military and veteran students and their dependents.
"I always thought I would have a problem with adjusting to working in the civilian sector because everything is so by the book in the military," Smith said. "I just didn't know if I would blend in with people who haven't had that experience, but it's actually been great. I'm just learning as much as I can, and this has allowed me to implement some of my own ideas. Everyone is super helpful."