TU Business 'Meet the Experts' event to focus on Administration
Post Published On:
Thomas University's Business Division will continue its "Meet the Experts" series at 5 p.m. Thursday, Nov. 11, with an event held via Zoom featuring guest speakers who will discuss Administration. These featured leaders, managers and innovators will include Walter A. McNeil, Sheriff of Leon County, Florida; Lee Wagner, Executive Director of the Boys & Girls Club of Thomasville; and Brandi Clark, Executive Director of Sigma Beta Delta, Honor Society for Business, Management, and Administration.
The guests will share the latest trends and strategies for building organizations while staying focused on their organization's missions and objectives during the COVID-19 pandemic. They will talk about how they face the daily challenges of managing diverse employee populations, working with a board of directors and/or community leaders. The speakers will also address how they keep up with the latest best practices and trends in administration so they can successfully support those they are charged to serve.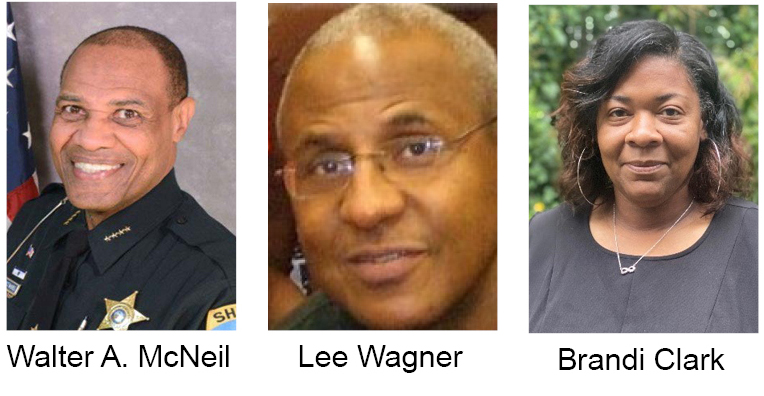 McNeil became Sheriff of Leon County in November 2016. In his 40-year career as a public service, McNeil has led two state agencies under former Florida Gov. Charlie Crist and has advised the Obama White House and other governments around the globe on law enforcement strategies and tactics. From 2008 to 2011, while serving as Corrections Secretary, he put in place Florida's first prison re-entry programs, reducing the inmate recidivism rate by nearly 5 percent.
For 10 years as chief of the Tallahassee Police Department, McNeil was recognized for his progressive voice and his effective response to citizen concerns. His community policing efforts to control gangs, drugs and juvenile crime earned him numerous honors, including the Tallahassee NAACP Humanitarian Award, Public Sector Business Person of the Year and the United States DEA Award.
In 2012 he was selected to serve on the advisory group that met with Vice President Biden to discuss gun violence. As President of the International Association of Chiefs of Police, McNeil traveled to foreign countries to discuss methods to combat terrorism, human trafficking, cyber-crimes and other 21st century concerns that may impact global security and policing issues.
McNeil has chaired the Heart Walk for the county chapter of the American Heart Association, been honorary co-chair of Leon's March of Dimes Walk America campaign, and serves on numerous boards; Southside Rotary Club, Greater Tallahassee Chamber of Commerce, Fellowship of Christian Athletes, Big Bend Minority Chamber of Conference, Boys Town North Florida and the Refuge House.
The Sheriff and his family are active members of New Mount Zion AME Church.
Wagner is the Chief Professional Officer of Marguerite Neel Williams Boys & Girls Clubs of Southwest Georgia. Having served with the Thomasville-based organization previously as its first director for nearly 13 years from April 1999 through March 2012, he was excited and honored to return as the organization's director on March 1, 2019.
With more than 30 years of experience in the Boys & Girls Club movement, Wagner's career began with Boys & Girls Clubs of Metro Atlanta, where he served as a Health and Physical Education Director at the Warren Memorial Club. He also he held several key leadership positions at two different Metro Atlanta Clubs. Career success led him to Boys & Girls Clubs of Central Georgia (Macon) in 2012, and then on to Boys & Girls Clubs of the Big Bend (Tallahassee) where he served as executive director from July 2014 to February 2019.
Lee holds a BS Degree in Education from East Tennessee State University and a Master's Degree in Human Resources from Clemson University. Married to Denise for 36 years, Wagner has three grown children and six grandchildren.
Clark graduated Magna Cum Laude in 2008 with a Bachelor of Science Degree in Accounting from North Carolina Central University. After receiving numerous offers from the Big 4 Accounting firms, she realized they were not for her. Clark decided to become an entrepreneur and start her own firm, which specializes in non-profit accounting but also serves start-ups and for-profit corporations.
In 2016, Clark became the Accountant for Sigma Beta Delta, Inc. In 2019, she became the Executive Director. Sigma Beta Delta, Inc is an honor society that services non AACSB and ACBSP accredited universities. Its mission is to encourage and recognize scholarship and accomplishment among students of business, management, and administration. Sigma Beta Delta was established to honor students who have attained superior records in business programs in schools and colleges.
The "Meet the Experts" event will be held via Zoom. Email Dr. Melinda Piller at mpiller@thomasu.edu to request the link.