Thomas University's Dr. Steve DePaola wins Prestigious  Award 
Post Published On:
Dr. Steve DePaola, Associate Professor of Psychology, is the recipient of Thomas University's 2023 Professor of the Year Award.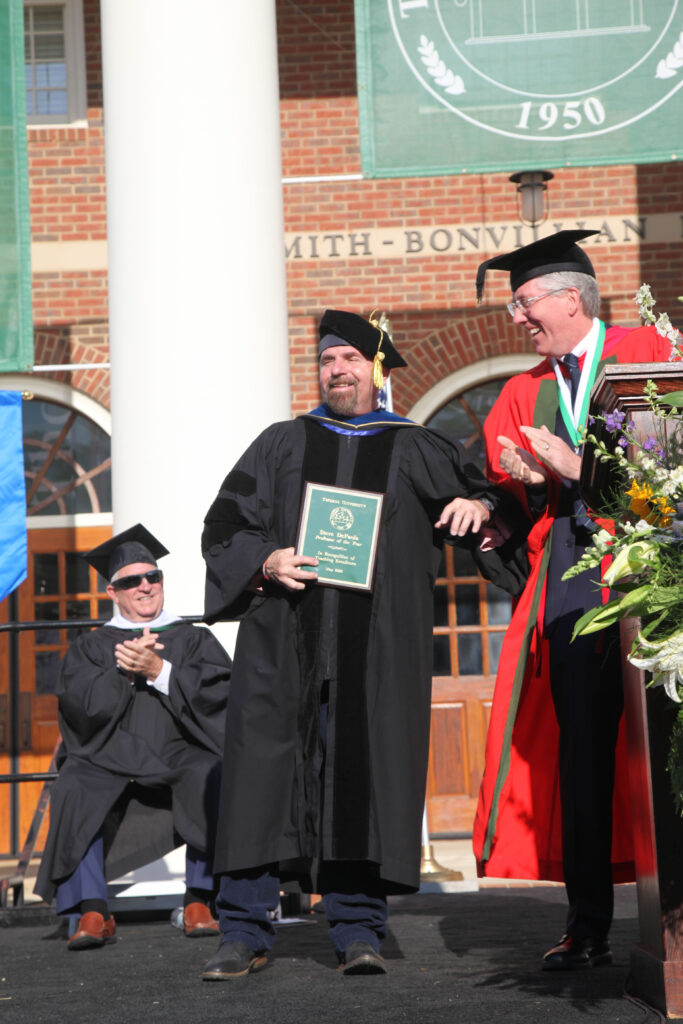 The award honors a faculty member who has demonstrated an excellence in teaching. That excellence has been manifested in Pomona, California's native unconventional approach to teaching, and the far reaching impact it has on his colleagues, students, and the community.
Whether it is jumping on a table or lying on the floor; DePaola is known for his enthusiasm while teaching students complex theories and philosophies pertaining to the field of psychology.
A pure academic at heart, DePaola has developed and taught a large section of psychology courses at TU. The most recent course he developed was Biological Neuroscience. It challenges students to learn about the biological structures and functions of the brain, and how it impacts human behavior. DePaola takes the concepts from biological psychology and applies them to disorders such as Alzheimer's and other mental ailments.
For DePaola, teaching is not limited to the classroom. He has always been passionate about gerontology. He helped to establish Red Hills Gerontology Society, which was created to assist with the needs of the elderly within the community, in 2007. Since then, there have been several conferences about gerontology, including at Thomas University.
Steve not only teaches students about issues like Alzheimer's disease and aging, but he is involved in spreading awareness of those issues in the community. DePaola has also helped organize the Jim Neil Walk at Thomas University to help raise funds and awareness for Alzheimer's. DePaola has also worked with the Alzheimer's Association and the Sawyer Dementia Support Group.
He challenges his students to do the same by getting involved with civic organizations. Over the years, students have accepted the challenge, and helped organize the Jim Neil Walk on campus, multiple prayer services, and the 2019 Alzheimer's Walk in Thomasville.
DePaola's impact on the lives of students, and the community is immeasurable. From teaching courses to civic engagement, DePaola is a shining example of what the Professor of the Year Award embodies.