Thomas University to hold free SAT/ACT prep workshops
Post Published On:
Thomas University will hold two free SAT preparation workshops for high school students on Thursday, Oct. 21, in the Flowers Foods Executive Classroom inside Smith-Bonvillian Hall on the Forbes Campus. The 6 p.m. workshop will be for new test-takers. The 7:30 p.m. workshop will be for students who already took the SAT or ACT at least once and would like to improve their score. Registration is required.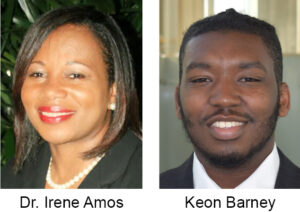 Both workshops will be presented by Amos Education, LLC, featuring Dr. Irene Amos and Keon Barney. Originally from Blackhawk, Mississippi, Dr. Amos holds a bachelor's degree in English from the University of Mississippi, a master's degree in Secondary Education from William Carey College, a specialist in Education Administration and a doctorate in Education Administration, both from the University of Southern Mississippi. A retired veteran, she has 17 years of education experience and uses research-based strategies for academic improvement.
Barney is a junior enrolled in a dual Strategic Management/International Studies program with a minor in Spanish at the University of Pennsylvania. He was born and raised in Gulfport, Mississippi, where he attended Harrison Central, graduating in the top 10 and becoming one of the first students at his school to be accepted into an Ivy League Institution. Barney has been tutoring and mentoring since high school, where he co-founded a tutoring program to help his peers in advanced classes. Barney is passionate about helping others because of the help he received from valuable mentors along his journey.
To register for the 6 p.m. new test-takers workshop, visit tinyurl.com/NewSAT-ACTTestTaker. To register for the 7:30 p.m. experienced test-takers workshop, visit tinyurl.com/ExperiencedSAT-ACTTestTaker. For more information, email admissions@thomasu.edu.