Thomas University names 2022 Division Award recipients
Post Published On:
On Saturday, May 7, Thomas University had a total of 502 students graduate in two separate commencement ceremonies held on its Forbes Campus. In addition to associate, bachelor's, master's and education specialist degrees, TU administrators also presented a number of awards. Among those were honors for the outstanding undergraduate and graduate student in each academic division.
Undergraduate Division Awards
Division of Business:
Jonna Wittwer, Management major, Summa Cum Laude, Pinneberg, Germany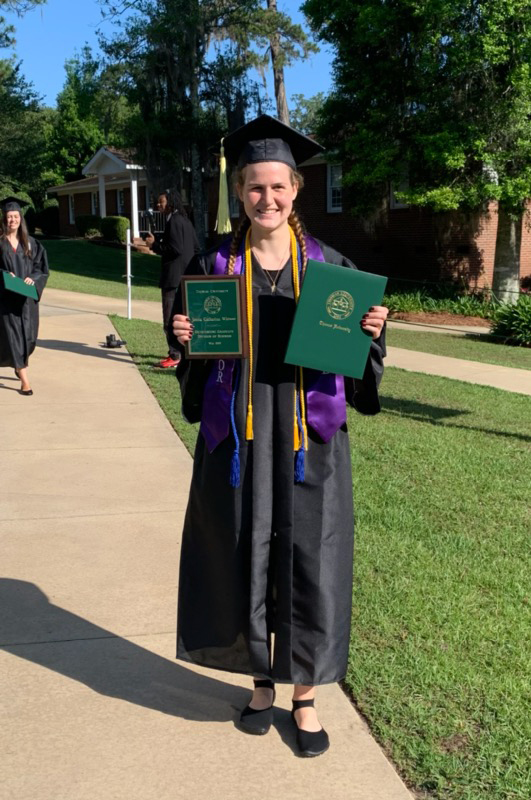 An international student, Jonna Wittwer completed the requirements for the Bachelor of Science in Management during the Fall of 2021. While at Thomas University, she was a member of both the Women's Soccer Team and the Women's Cross Country Team. Wittwer excelled both athletically and academically. She was a hardworking intelligent student, who was always respectful when interacting with her peers and professors. She effectively managed her time and promptly submitted assignments in spite of her busy schedule and the many challenges she faced as an athlete. Her ability to understand complex concepts and effectively communicate her ideas was remarkable. Wittwer plans to further her education by pursuing a master's degree in French-German Management at Hochschule Mainz University of Applied Sciences in Germany.
Division of Education:
Saleen Beckett, Elementary Education major, Magna Cum Laude, Coolidge, Georgia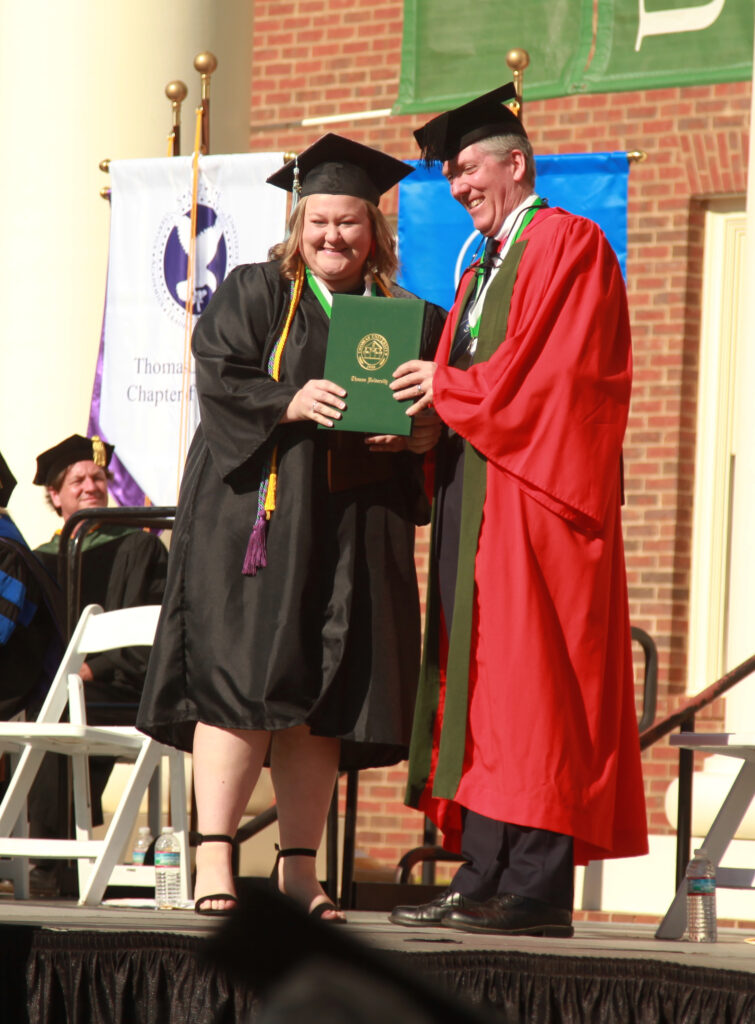 Saleen Beckett has earned the esteem of her peers and her professors for her hard work, her compassion for students and peers, her leadership, and her ability to model the knowledge, skills, and dispositions that are the foundation of a strong teacher. As one instructor noted, "Her diligence and organizational skills meant that she typically turned in assignments early… Her compassion for her classmates was obvious as she always tried to help them when they were struggling with their own assignments and offered moral support via texts and small group discussions. She was always a pleasure to have in class and attempted to respond to all questions posed – even if she was not sure of the answer. Additionally, she has shown that she will be just as dedicated in her future classroom and work to ensure all of her students are successful and supported." Beckett is a member of Kappa Delta Pi, an international honor society in Education.
Division of Health & Sciences:
Marketa B. Aligood, Medical Laboratory Science major, Summa Cum Laude, Bainbridge, Georgia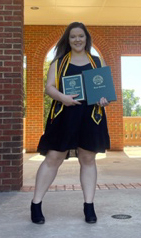 Marketa B. Aligood excelled in all of her Medical Laboratory Science courses at Thomas University and graduated Summa Cum Laude in Fall 2021. It was apparent that she made a true effort on each assignment and activity in the courses. Even though medical laboratory scientists are behind the scenes, Aligood's dedication to the field and to the patients that she serves is evident in all of her work. As further proof of her distinction in the field, Aligood was promoted to night shift supervisor at her place of employment, Memorial Health and Manor in Bainbridge, before she even finished the program. Aligood is an exemplary representative of the principles and standards of a Medical Laboratory Scientist and an excellent graduate of the MLT to MLS program.
Division of Humanities and Interdisciplinary Studies:
Tiffeny L. McCardel, Humanities major, Thomasville, Georgia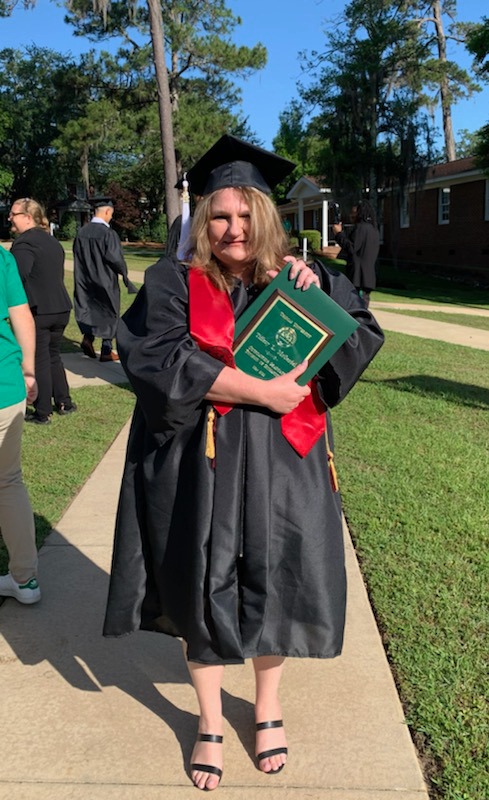 Tiffeny L. McCardel exemplifies the non-traditional student at Thomas University. She balances her family, school, and work lives as a Humanities major. Whenever things get out of balance, she always finds her way toward success and her ultimate goal of graduation. Her essential role as a staff member in the library and commitment to the interdisciplinary aspects of her art concentration have allowed her to combine her passion for community and research as she explores the life and works of folk artist Laura Pope Forester and Pope's ties to the history of Gold Star Mothers and Grady County as part of her senior thesis. There is no doubt that McCardel has been transformed during her time at TU and has impacted many other students during her time here. She is sure to find her own unique path through life.
Division of Social & Behavioral Studies:
John Lupica, Psychology major, Summa Cum Laude, Braselton, Georgia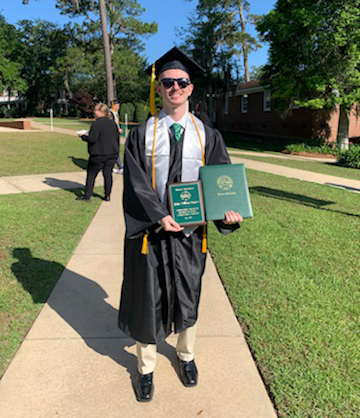 John Lupica excelled in the classroom and on the sports field during his time as a student at Thomas University. He played soccer at Thomas University for the past four years while making the All-Academic team his final year. He served as head of the Psychology Club for two years. In class, Lupica was always well-prepared for any assignments, actively participated in the group discussions, and suggested very insightful and thorough perspectives. After graduating Summa Cum Laude with his bachelor's degree, Lupica plans to earn a master's degree in Psychology.
Graduate Division Awards
Division of Business:
Nicola Monelli, Master of Science in Management, Modena, Italy
Nicola Monelli has been a student at Thomas University for five years, completing his undergraduate degree in Business and now his master's degree in Management. He played soccer for TU and was a founding member and officer in TU's Society for Human Resource Management (SHRM) Student Chapter. As treasurer for the SHRM, Monelli was always the first to volunteer to take on new assignments to help establish the chapter. While Monelli faced the challenges of being an athlete and a student, he also dealt with the difficult task of improving his writing skills since English is not his first language. Never one to say "no," Monelli continued to develop his academic skills while remaining an integral part of TU's student activities. Always respectful to his professors and classmates, he is a leader whose quiet, yet effective example has been greatly appreciated and is now formally recognized.
Division of Education:
Quinn Popp Carlisle, Master of Arts in Elementary Education, Port Wentworth, Georgia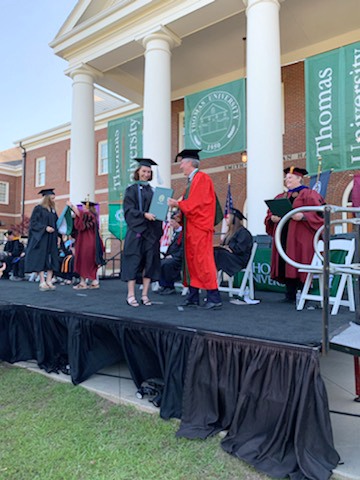 Quinn Popp Carlisle is an outstanding leader, educator, and student in the Master of Arts in Teaching Elementary Education program. As a member of the first M.A.T. cohort for the Division of Education, Quinn is known for her exemplary assignment submissions, a positive attitude, and a willingness to help her peers. Quinn enrolled in the M.A.T. Elementary program while working at Florida State University as an accounting specialist, where she had a background in training and supervision. While at FSU, Carlisle was instrumental in facilitating multiple system transitions and integrations. She transitioned well into the role of a student, peer, and teacher while in the M.A.T. program, where she performed all her duties with ease and high academic standards. Due to COVID 19, her first early field placement was in a virtual environment where Carlisle excelled working with a teacher and students in Thomasville, Georgia, while she was in Port Wentworth, Georgia. Mentor teachers, course instructors, as well as her peers all commented on her ability to go above and beyond and to look for opportunities to grow even when she was already performing at an exceptionally high level. Not only did Carlisle pass her GACE exams at the Professional Level with outstanding scores, but she is also a member of the Phi Kappa Chapter of the Kappa Delta Pi Fraternity, a recipient of the "Behind the Scenes Wonder Award," a member of the National Society of Leadership and Success, and participated as a Wofford College Ambassador for Admissions.
Division of Health & Sciences:
Tierra Brown-Ward, Master of Science in Nursing, Perry, Georgia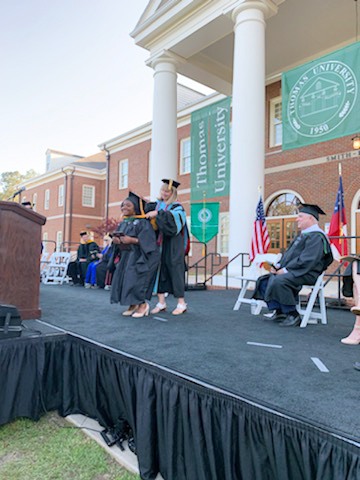 Tierra Brown-Ward completed her Master of Science in Nursing in December 2021. Her capstone project was "Reducing discharge delays by integrating pre-discharge COVID-19 testing and vaccination status tasks to case management worklists." As a nursing case manager, Brown-Ward works closely with patients to get them ready for discharge to home or another facility. She found that the hospital was experiencing additional non-reimbursed costs for extended hospital days because patients transferring to long-term care facilities were not meeting Covid admission requirements. Brown-Ward worked with her facility and IT personnel to identify the root cause of the problem and then implement steps to prevent the delays. This ultimately saved her facility money. In addition to being a full-time RN, Brown-Ward also serves as President for TU's Phi Tau chapter of Sigma Tau Theta International Honor Society of Nursing.
Division of Social and Behavioral Sciences:
Phillip Bailey Parker, Master of Science in Clinical Mental Health & Clinical Rehabilitation Counseling, Valdosta, Georgia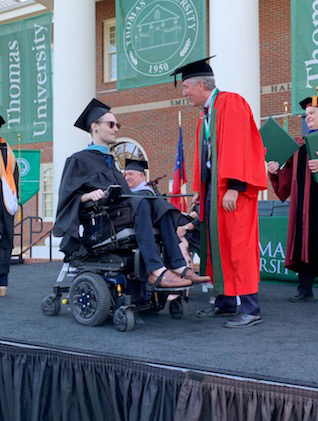 Phillip Bailey Parker exhibited remarkable skills, academic excellence, and resilience in the counseling program at Thomas University. While earning the highest GPA in his coursework, he was a founding career counselor at the TU Career Center. He passed the Certified Rehabilitation Counselor exam, a demanding and difficult test, with extremely high marks in the summer of 2021. His development as a highly competent counselor through the rigors of coursework and his field internships led to Parker being instrumental in establishing excellence of services very early on in his tenure with the newly envisioned Career Center. Parker took the lead as Implementation Specialist in the integration into student life of the GradLeaders software platform for career centers. His qualities as an empathetic and caring counselor helped scores of students find their way in the initial phases of searching for the job of their dreams and internships while always listening for ways he could assist students with other unique life challenges. Parker accomplished all this while negotiating the difficulties experienced by those with disabilities of spinal cord injury.