Spotlight
Stories from TU's Faculty and Staff
The men and women of Thomas University's faculty and staff believe in creating the best environment in which students can thrive and reach their full potential. They share their talents and their time to make sure TU students receive the best possible education both inside and outside the classroom.
---
Three Questions with Sandra Simonds, Ph.D.
Sandra Simonds, Ph.D., Assistant Professor of English at Thomas University, discusses teaching and her recently published work.
---
Richard Curtis participates in German artist-in-residence program
From June 10 to June 30, 2018, Richard Curtis, Assistant Professor of Art, lived in the town of Soltau in Lower Saxony, Germany, where he was the city-funded artist-in-residence. Curtis used his skills to capture colorful snapshots of the city and countryside while also learning about new art forms specific to the region.
Prof. Curtis talks about being the artist-in-residence in Soltau, Germany.
---
Dr. Gresham's U.S. Army Education Tour
---
O'Neill Named TU's 2019 Professor of the Year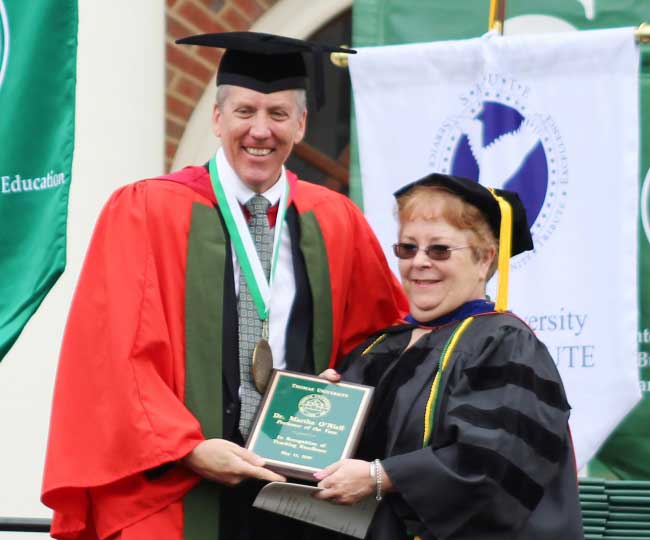 In addition to graduating a record number of students during its 64th Commencement ceremony on Saturday, May 11, Thomas University honored Dr. Marty O'Neill as its 2019 Professor of the Year. O'Neill, a resident of Tallahassee, is an Associate Professor of Nursing. She joined Thomas University in 2008.
O'Neill has served as the Faculty Counselor and Governance Chair for TU's Phi Tau Chapter of Sigma Theta Tau International Nursing Honor Society, on TU's Faculty Affairs Committee, as Chair of the Division of Nursing's Curriculum and Program Evaluation Committee, on TU's Institutional Review Board, on TU's Academic Program Review Committee and is the immediate past Speaker of TU's Faculty Senate. She currently maintains the Program Evaluation Plan for the TU Division of Nursing. O'Neill is active in the American Organization of Nurse Executives and the Council for Advanced Practice Nurses.
O'Neill earned her Ph.D. in 2014 from the University of Florida, where she was named the Graduate of the Year. Her dissertation focused on the relationship of the number of years of experience in nursing to patient safety. She shared this research as a poster presentation to the Southern Nurse Research Society. In 2016 she was selected to present at the Sigma Theta Tau International Research Conference in Cape Town, South Africa.
O'Neill uses learning outcomes to make her courses interesting for students and applicable to the nursing field. She also develops new courses, enhances her existing courses and shares her expertise. O'Neill even taught the Leadership in Nursing course in the People's Republic of China.
Her nomination letter states, "Students both domestic and abroad keep in touch with Dr. O'Neill to share their experiences in nursing and the impact that she has had on their lifelong learning and the ability to accomplish their goals through her shared knowledge."