Plymale receives 2022 TU President's Award
Post Published On:
First student to graduate from TU's NRCM program and its partnership with SRTC
Aubree Plymale of Boston, Georgia, always enjoyed the outdoors and learning more about how to protect the environment and natural resources, so earning a degree in that field was always part of her plan. However, she did not realize that she would make history along the way.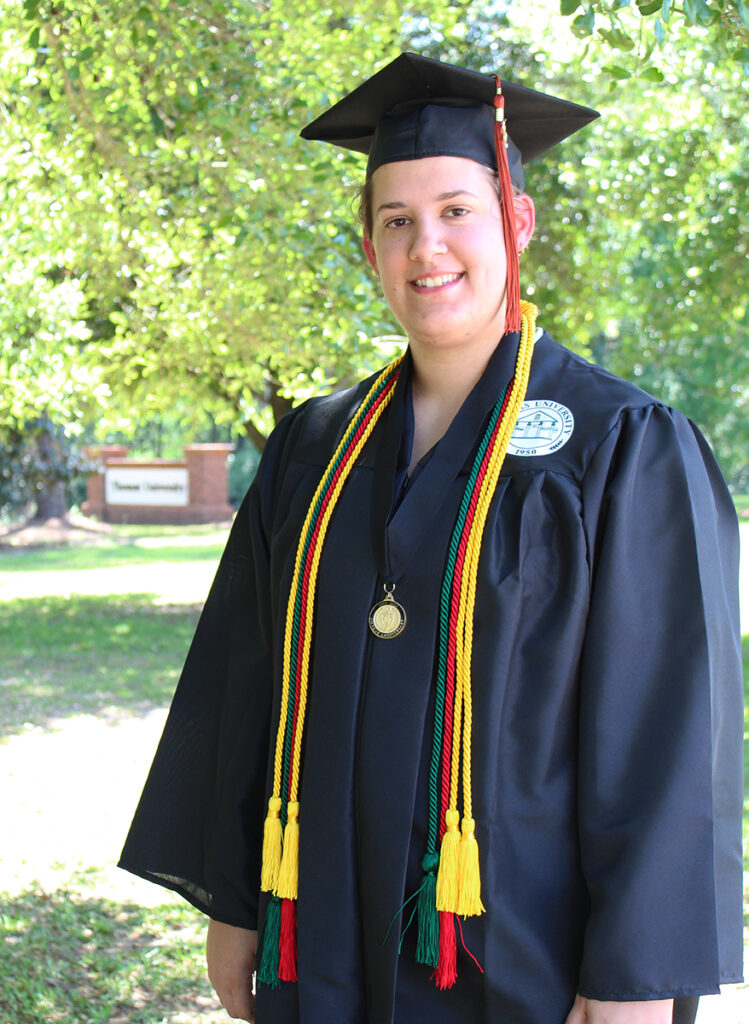 On Saturday, May 7, she became the first student to graduate from Thomas University's new Bachelor of Science program in Natural Resource and Conservation Management and she did it with Summa Cum Laude honors. Plymale also became the first student to graduate through a partnership with Southern Regional Technical College in which students first earn an associate degree at SRTC in the Land, Forest, Wildlife Management program before moving on to TU for two years of study leading to the bachelor's degree in NRCM.
In addition to those milestones, Plymale received Thomas University's 2022 President's Award, the highest honor presented to a student in recognition of his or her outstanding academic achievements and community contributions while pursuing a bachelor's degree at TU.
Plymale's path to these achievements wasn't a direct one.
When she graduated from Thomas County Central High School in 2016, she spent a year at a different college. When that college turned out not to be a good fit for her, Plymale enrolled in Southern Regional's program.
"I was able to get on my feet and get better grades as well as some more hands-on experience," she said. "That just made me enjoy the field even more."
As a student, Plymale learned from Jayme Williams, who was then head of the program at SRTC.
"He encouraged me throughout the time I was a student to get volunteer experience and get work experience," Plymale said. "He helped me learn skills that would definitely help later."
Later, Dr. Jeremy Green joined the faculty of SRTC's Land, Forest, Wildlife Management program.
"All my current students are aware of Aubree and her success," Green said. "She's come back and met with current students, especially ones that are thinking about coming to Thomas University. She's stayed very active and engaged. She's helped us with field trips and prescribed burning. We're really excited to continue our relationship with her. We're very proud of her."
After graduating from SRTC in 2019, Plymale decided to use her degree to gain some work experience.
"In the fall of 2020, Thomas University started the natural resources and conservation management program, which allows students to graduate from Southern Regional and then transfer over and only take two years to get their bachelor's," she said. "That's why I chose this degree. It's right here in Thomasville so close to home."
At TU Plymale learned more about the research aspect of NRCM. She and her research partners, Hope McNair and Dara Moore, will present their project at the Tri-Beta National Conference this summer.
"We're looking at the chemical, microbiological, and ecological factors of post-agricultural plots that are fire-dominated," Plymale explained. We're working with Tall Timbers Research Station and collaborating with them on this project. It's been a great journey so far working with them and working with the professors one-on-one. It has been an academic-year-long project. The first semester we worked on mostly research and background for this project. This current semester, we've been doing the hands-on work at Tall Timbers, so it's been a lot of fun. I'm glad to have gained that research experience here while working on my undergrad."
During her time as a student at Thomas University, Plymale has also served as president of TU's Mu Kappa Delta chapter of Tri-Beta Biological Honor Society. Under her leadership, the chapter hosted a guest speaker series, partnered with Keep Thomas County Beautiful to Adopt-a-Spot for litter cleanup along a stretch of Millpond Road, planted a tree at Cherokee Lake and hosted an Earth Day celebration at Cherokee Lake.
Plymale participated in other projects while at TU.
"I interned at Tall Timbers Research Station, and I worked with the land conservancy crew on conservation easements," she said. "I got to travel around to different properties around the Thomasville, Tallahassee and all the many regions. That was a lot of fun. I got to present my internship and everything that I did to a group of professors at the end of the semester. I also did an advanced research class during that summer where I went to Lost Creek Forest, where I serve as a volunteer board on the board of directors called Friends of Lost Creek Forest, and I was able to build a conservation management plan for the forest. I presented that plan along with my internship."
Plymale counts her experiences as the most important part of her time as a TU student.
"I would say my greatest reward would be the all the experience I've gained here at TU and all of the community partners that I've met through my time here," she said. "It's been a lot of fun conducting research because I've personally enjoyed it. The professors here are just wonderful because to them, you're not just a student; you're not just a number. They want to see you succeed. There have been a handful of professors that have helped me along the way and have really been a great asset while I'm here. I would say my biggest asset and my biggest supporter would be the head of the Natural Resources Program, Mrs. Elizabeth Harrell."
Harrell not only assisted Plymale with her research projects, but she encouraged Plymale to continue her education beyond TU. Plymale plans to pursue a master's degree at the University of West Alabama, where she will study Conservation Biology. She has also accepted a graduate research assistantship under Project PAIS 2.0 (Partners for Agricultural Innovation and Sustainability).
"Aubree has really set the bar high," Harrell said. "She has been an excellent student and an excellent advocate for our program. She's taking her experiences from the field at Southern Regional Technical College and her research side at Thomas University as she attends grad school at the University of West Alabama. I could not be more proud of her."