NAACLS reaffirms accreditation of TU's Medical Laboratory Science program
Post Published On:
The National Accrediting Agency for Clinical Laboratory Sciences recently reaffirmed its continuing accreditation for Thomas University's Bachelor of Science Degree program in Medical Laboratory Science for another 10 years.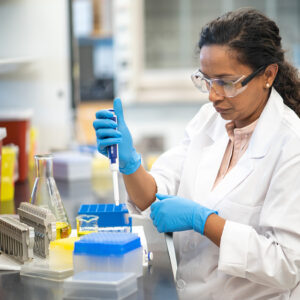 "Accreditation by NAACLS means that our program meets the established education standards in clinical laboratory science discipline of Medical Laboratory Science set by the premier agency in the field," said Leslie A. Cooper, program director and clinical coordinator. "The thorough and rigorous accreditation process and the fact that our program is one of only five accredited MLS programs in Georgia shows our continued commitment to deliver high quality education to both local students and beyond."
A Medical Laboratory Scientist is an integral part of the healthcare team and aids in the diagnosis of patients through scientific analysis of human samples to yield diagnosis and treatment. TU's MLS graduates are prepared to enter the field with a rich and diversified skill set enabling employment in a variety of laboratories, such as medical and hospital, forensic, pharmaceutical, drug trial, veterinary, physician offices, food and beverage, and other lab-related career fields.
TU's MLS program, which NAACLS originally accredited in 2002, was the first program at TU to offer classes online. Now the program offers both online and on-campus courses. The 2022 class was the 19th to graduate. About 300 students have graduated from the program since 2002.
For more information about TU's MLS bachelor's degree, visit www.thomasu.edu or call 844-862-6978.