Faculty member honored with Vulcan Award  
Post Published On:
Thomas University's Crawford "Chip" Battle is the recipient of the 2022-2023 Vulcan Teaching Excellence Award.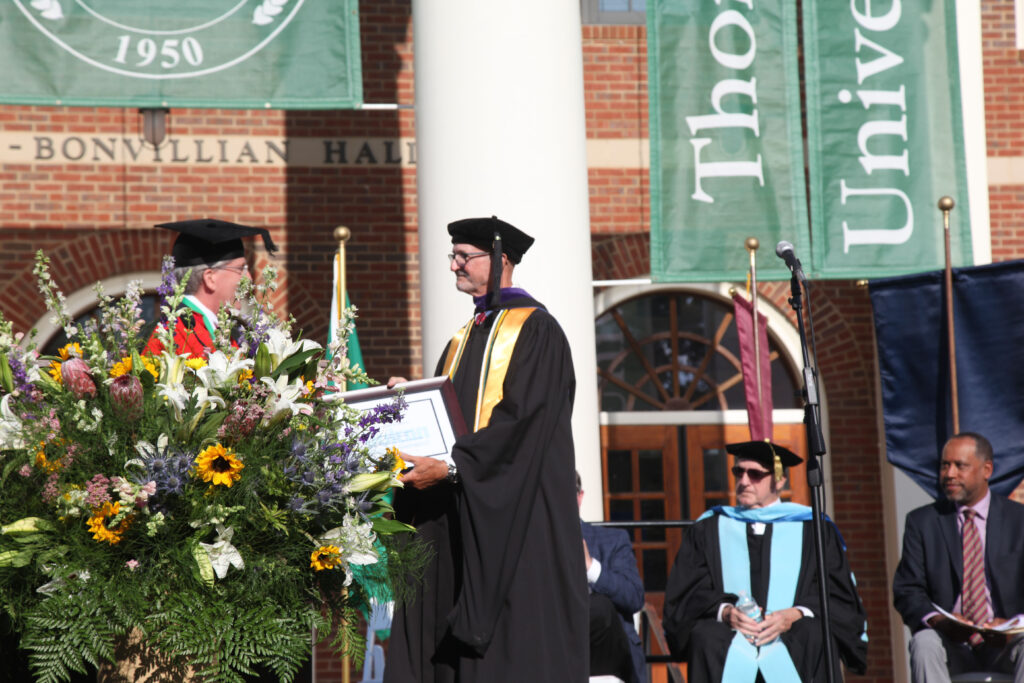 Crawford "Chip" Battle
The prestigious award was presented to him at the 2023 Spring Commencement Ceremony on Saturday. It honors an outstanding faculty member who demonstrates strong academic skills in the classroom and provides leadership and support in the other areas of campus life.  
"For the past 25 years, Vulcan Materials, in conjunction with the Georgia Independent College Association, has been honoring an outstanding professor at selected GICA member colleges and universities with the Vulcan Teaching Excellence Award," said Dr. James Sheppard, President of Thomas University.  
Born in Honolulu, Hawaii, and raised in Warner Robins, Georgia, Battle has taught at TU for 20 years. He is the Criminal Justice Program Director. Since taking on that role, Battle has spearheaded the launch of the Homeland Security and Justice Administration bachelor's degrees programs by developing courses and programs of studies. The courses include Introduction to Criminal Justice, Corrections in America, and Evidence.  
"Chip has demonstrated teaching excellence in in-class settings and with online learners," said Dr. Pauline Patrick, Division Chair, Social and Behavioral Sciences at TU. "He utilizes various pedagogy strategies as he works to meet the needs of students in the Criminal Justice program. He is good at finding ways to engage students through discussion, demonstrations, direct activities, and a wide variety of assignments." 
He is also the faculty liaison between the academic and athletic departments. Battle works with the coaches and athletic director to manage student and faculty issues such as the University's attendance policy that impacts on student athletes traveling for competitions. 
 Over his 20-year career, has been a member on different committees, including leading the Academic Council, now called the Curriculum Committee.  
"Crawford "Chip" Battle is a true TU professional – in every role he takes on at TU," Patrick said. "He is highly respected by faculty, administrators, and students alike. When Chip speaks, people listen."