TU's TriBeta holds first induction ceremony
Post Published On:
Thomas University's newly established chapter of TriBeta, a national biological honor society, held its first induction ceremony on Thursday, Dec. 5, inside Flowers Foods Executive Classroom in Smith-Bonvillian Hall. Dr. Mark Blackmore of Valdosta State University was the keynote speaker.
To be a member of TriBeta, a student must be an undergraduate biological science major or a graduate student in a life science. Undergraduate members must have completed at least three semester courses in biological science with an average grade of B or better and an overall average of B or better.
Participating in the induction ceremony are (front row from left) Rebecca Boesen, TriBeta Vice President from Bradenton, Florida; Angelina Del Rosso from Deland, Florida; Elizabeth Hornsby from Iron City, Georgia; Shelby West from Gainesville, Florida; Shari Larry from Woodbine, Georgia; Taylor Hults from St. Johns, Florida; (back row) Elizabeth Harrell, Biology Instructor; Samuel Wittkopf from Lynn Haven, Florida; Morgan Smith, TriBeta Historian from Ochlocknee, Georgia; Dr. Nikolay Tsvetkov, Science faculty member; Courtney Shuler from Blountstown, Florida; Ann Simpson from Pavo, Georgia; Caleb Rogers from Lake Park, Georgia; Austin Roberts, TriBeta President from Ponce De Leon, Florida; Mark Lescher, TriBeta Secretary from Tallahassee, Florida; Raelye Rouw from Green Cove Spring, Florida; Megan Phillips, TriBeta Treasurer from Bainbridge, Georgia; Deana Baker, Chair of the Division of Science; Leslie Cooper, Director of the Medical Laboratory Science program; Dr. LeAnna Willison, Science faculty member. Not pictured is inductee Alisha Clayton, TriBeta Fundraiser from Gainesville, Florida.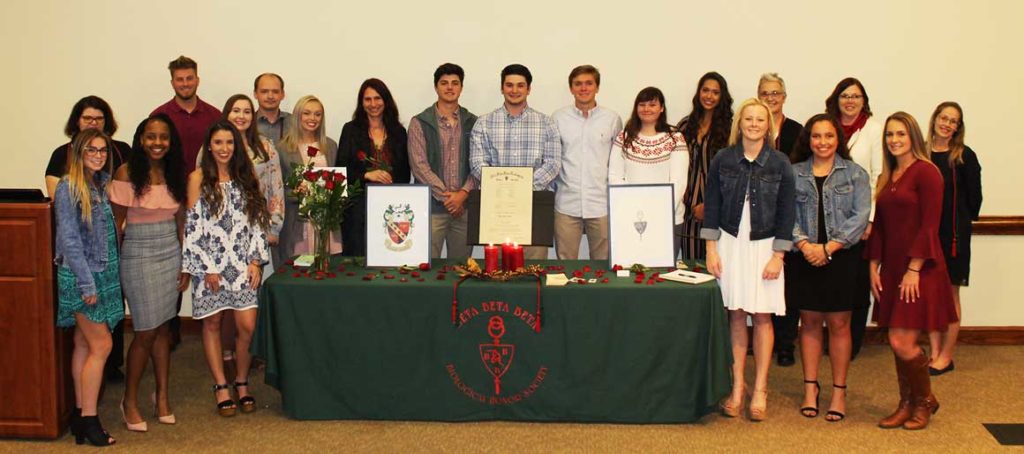 Photo by Sharita Mitchell-Perkins, Student photographer