TU students, professor recreate missing museum sculpture
Post Published On:
In the 1940s, the late Laura Pope Forester created the life-sized "Gold Star Mother" statue as part of a memorial to honor military service members who lost their lives and the families they left behind. The self-taught artist created the statue, and about 200 other works of art, at her home near Ochlocknee, Georgia, in Grady County, before her death in 1953. As one of the few women artists of her time, Forester's work received much acclaim during the 20th century.
Sometime between 2015 and 2017, the grieving mother statue was removed from the memorial.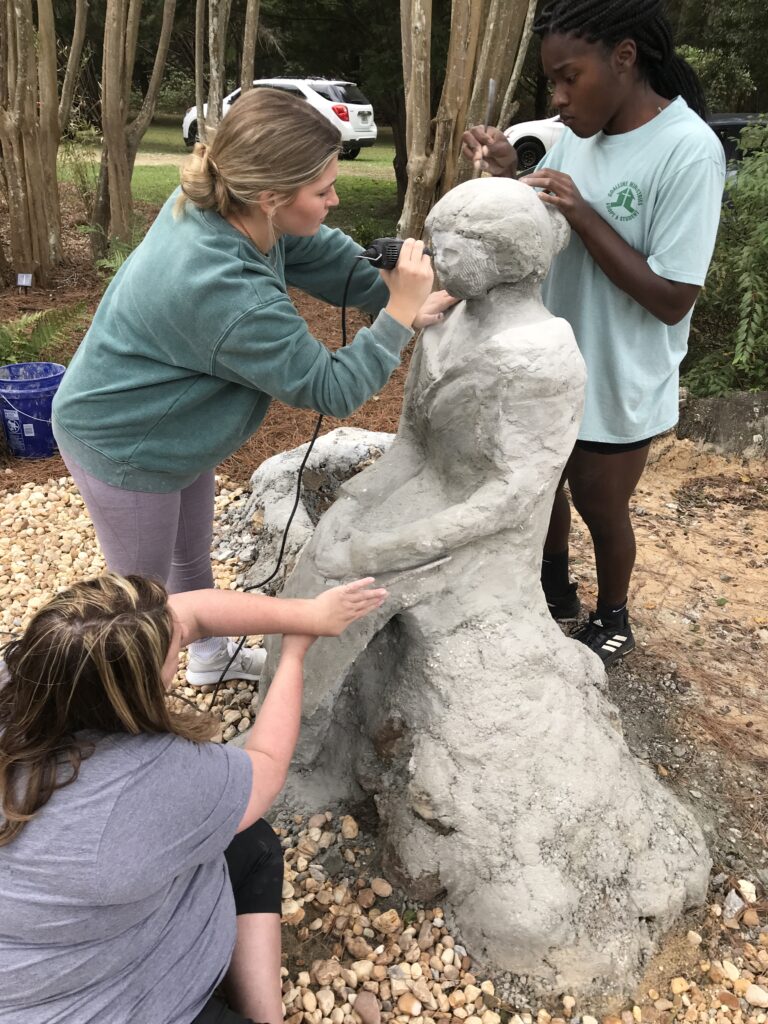 In 2017 Michelle and Dan Dean purchased the property in 2017 and began restoring and preserving the property to create Popes Museum as a tourist attraction. In November 2021, Popes Museum was added to the National Registry of Historic Places.
Richard Curtis, Thomas University Associate Professor Art, served on the Board of Directors for Pope's Museum. As various local groups worked with the Deans to preserve Forester's art work and revitalize the property, Curtis saw an opportunity.
"This was a project to restore, or rather reinterpret, a monument that had been lost," he said. "It coincides with the Pope's Museum receiving recognition from the National Registry of Historic Places."
Curtis asked three of his students to work with him in recreating the "Gold Star Mother" statue – Tiffeny McCardel, Jennifer Coleman and Georgia Smith.
"I thought it would be a unique learning experience for them," he said. "As a studio artist, I am always looking to include hands-on experiential learning into my lecture based courses."
Curtis and his students had their own challenges with the project, including rain delays, meeting deadlines and moving the sculpture from the art studio to the museum.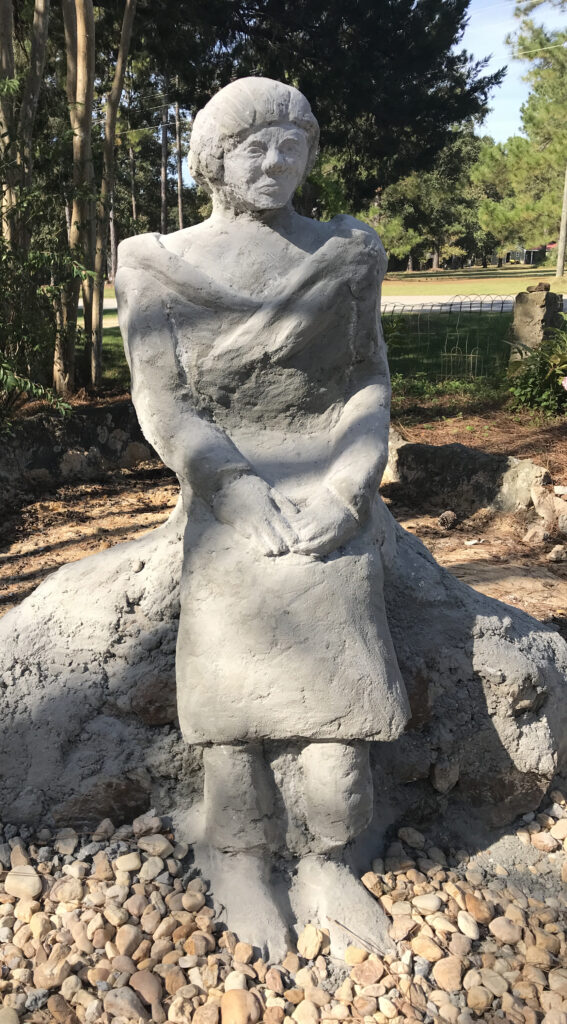 "I feel very honored to have been a part of a project that commemorates mothers who have lost their children that served our country during times of war," McCardel said. "Their sacrifice deserves the utmost respect and I hope that people who see the sculpture when visiting the museum will find a peaceful place to reflect on Gold Star Mothers and what they represent."
On Nov. 6 the first phase of preservation project, which included the new "Gold Star Mother" statue, was dedicated during a ceremony at the Pope's Museum.
"I think the most rewarding part about this entire project was the smile that Michelle Dean had on her face when she saw the final product," Coleman said. "From the start to the end, it was like a 1,000-piece puzzle project finally being put together, and all you can do is just smile at the finishing touches. The sculpture was like a diamond in the rough.
"At first it was hard to see how it would turn out. Then, when things started to come together, it was like we hit the jackpot. It was really fun to work with such a great group of people. We connected and bonded really well on this project. Knowing that I was able to take part in such a historic project makes all the trials and tribulations worthwhile."
McCardel added, "I really enjoyed working with the other students. They are so talented and made the project a lot of fun from beginning to end. The most rewarding part of the project was seeing it completed. There was so much hard work put in and seeing it finished in the garden of the museum was an amazing experience."