Duo Beaux Arts to perform at ACTU's next Fridays at Noon
Post Published On:
Duo Beaux Arts, the internationally renowned husband-and-wife concert piano duo of Catherine Lan and Tao Lin, will be the featured performers at the first Fridays at Noon event of the 2021-2022 season for Arts for the Community at Thomas University on Sept. 24. The concert will feature all French music for both solo and duo piano with four hands on one piano. The performance will begin at 12 p.m. in the chapel of Thomasville First United Methodist Church.
Known for its adrenalized performances, this dynamic duo has performed in France, Switzerland, Spain, Estonia, Finland, the Netherlands, China, and the U.S. to both critical and audience acclaim. Duo Beaux Arts has been featured on Fox4 Morning Blend TV, Maine Public, Venice Magazine, Asian-Trend Magazine, World Journal New York and Gulfshore Life Magazine. Season highlights include concerto engagements with South Florida Symphony Orchestra performing Mozart's concerto for two pianos, a debut recital at the prestigious Cosmos Club in Washington D.C., as well as tours in Hungary and Canada.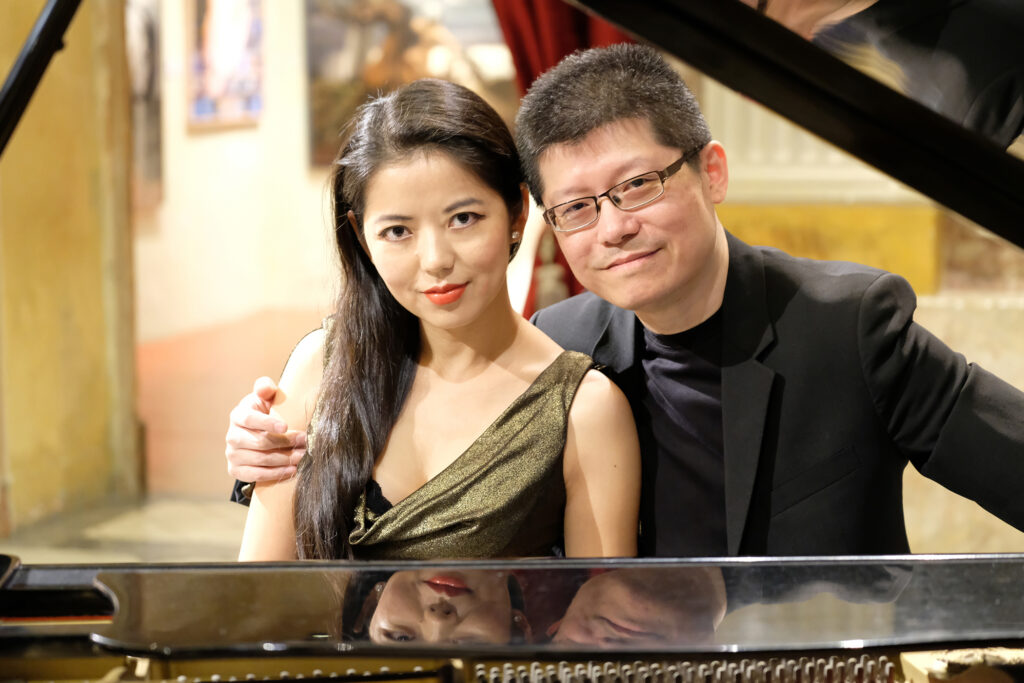 Born in Taiwan, Dr. Lan has concertized across the U.S., Canada, Japan, Singapore, Taiwan, Mexico, Thailand, United Kingdom, Italy, Croatia, and Slovenia at prestigious venues such as the Carnegie Hall in New York and Fitzwilliam Museum in Cambridge. Her highly acclaimed performances have been featured at WLRN-Public Television, "Beethoven Universal TV" series, Becon TV, Fu-Hsin Broadcasting Station, and Canadian Broadcasting Corporation Radio. She will be making her Ireland debut this season.
A soloist with Milwaukee Symphony, Northeastern Pennsylvania Philharmonic, Vancouver Symphony, British-Columbia Chamber, and Edmonton Symphony, Dr. Lan is also an avid chamber musician. She has collaborated with Itamar Zorman, James Buswell, David Requiro, Ayano Ninomiya, Aspen String Trio, Henschel String Quartet, Thalea String Quartet, Maxwell String Quartet, Naples Philharmonic and Boca Raton Philharmonic Symphonia Chamber Players, to name a few. She is also the pianist with Duo Arpeggione, Duo Formosa, Tallinn Piano Trio, Delray Piano Trio, Atlantic Piano Trio and Beaux Arts Ensemble.
Dr. Lan received her Bachelor of Music from University of British-Columbia, Master of Music from Indiana University (Bloomington), and Doctor of Musical Arts from University of Miami, Dr. Lan serves on the faculty of Broward College and is also the co-artistic director of Rosemary Duffy Larson Classical Series. Dr. Lan records for Centaur Records.
Described by critics as possessing "keen musical intelligence and excellent facility" (Miami Herald) as well as "opulent and romantic tone" (Fanfare), Chinese-American concert pianist and Steinway Artist Tao Lin has performed across Asia, North America, and Europe. As a soloist, he has performed with orchestras including Moscow Chamber, Winnipeg Symphony, Atlantic Classical, and Knoxville Civic. As a recitalist, he has appeared at Kennedy Center, National Gallery of Art, 92nd Street Y, Rockefeller University, Chautauqua Institute, Clarice Smith Performing Arts Center, Minnesota Orchestra Hall, Izumi Hall (Osaka, Japan), and Edvard Grieg Museum in Norway. A devoted chamber musician, Lin has concertized as a member of Berlin Piano Quartet, St Petersburg Piano Quartet, and Brahms Piano Quartet. He has also appeared in concerts with Aspen Trio, Miami, Bergonzi, Alcon, Ying, Shanghai, and Rosalyra String Quartets, as well as distinguished musicians such as Elmar Oliveira, Carol Wincenc, Roberto Diaz, William De Rosa, Charles Castleman, Eugenia Zukerman, Claudio Bohorquez to name a few.
A frequent pianist and lecturer at the Music Festival of the Hamptons, Mainly Mozart Festival, Music Mountain Chamber Music Festival, Arts Rolla Festival, Highlands-Cashiers Chamber Music Festival, and Festival Miami, Lin is currently a visiting professor of Shanghai Normal University and a piano faculty at Bowdoin International Music Festival. Lin records for Centaur Records, Naxos, and Artek labels.
The Duo Beaux Arts performance can also be viewed in person and online at www.facebook.com/actu31792/live. No Facebook account is required to view.
This program is supported in part by Georgia Council for the Arts through the appropriations of the Georgia General Assembly. Georgia Council for the Arts also receives support from its partner agency, the National Endowment for the Arts. This project is supported in part by an award from the National Endowment for the Arts.
For more information about this and other ACTU events, visit www.facebookcom/actu31792 or www.thomasu.edu/actu, call 229-227- 6964 or email actu@thomasu.edu.